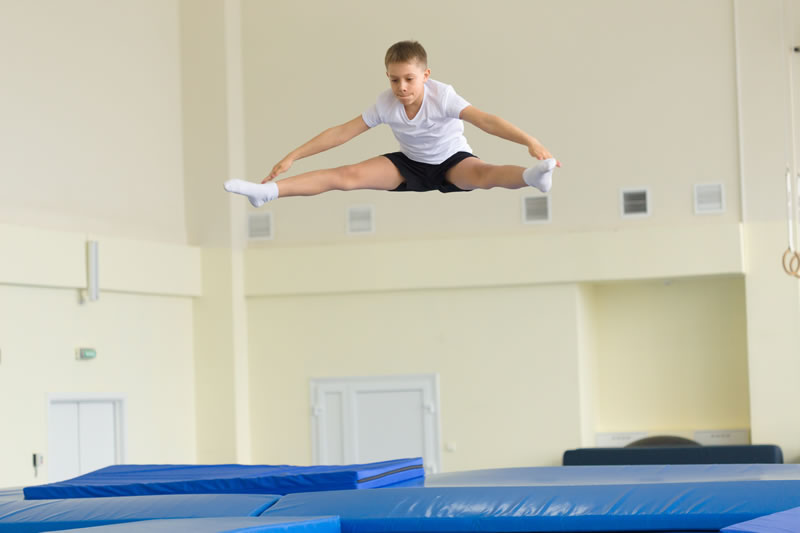 Trampoline classes in our Hastings based centre are available to all ages from 5 years to adults, and are suitable as an individual sport or additional activity for those already in fitness training wanting to enhance their spatial awareness.
We have two sunken trampolines within the gymnastics centre, providing a safe learning facility. In addition there is matted area around the trampolines where exercises are encouraged to reinforce the shapes required.
Trampoline classes for the Hastings, St Leonards & Bexhill area
Each session is limited to a maximum of 8 children or adult sharing the two trampolines, so everyone gets plenty of time to practice their skills.
All classes start with a general warmup, and will include strengthening and cool down within the 1 hour session. Our qualified coaches will help build confidence and ability by working through the British Gymnastics Trampoline Award Scheme, enabling the acquisition of new skills through structured development.
The aim will be to perform basic routines including jumps, shapes and twists, then on to more advanced skills including somersaults.
Bouncing on the trampoline is a fun and exhilarating experience which we can provide for the Hastings, St Leonards and Bexhill area, so why not contact us to arrange a trial session.
These Classes are available:
Tuesday  5.00 – 6.00 pm  Adult 6.00 – 7.00pm
Thursday 6.00 – 7.00 pm Adult 7.00 – 8.00 pm
Saturday  10.00 – 11.00 am or 11.00 – 12.00 pm Adult 12.00 – 1.00pm